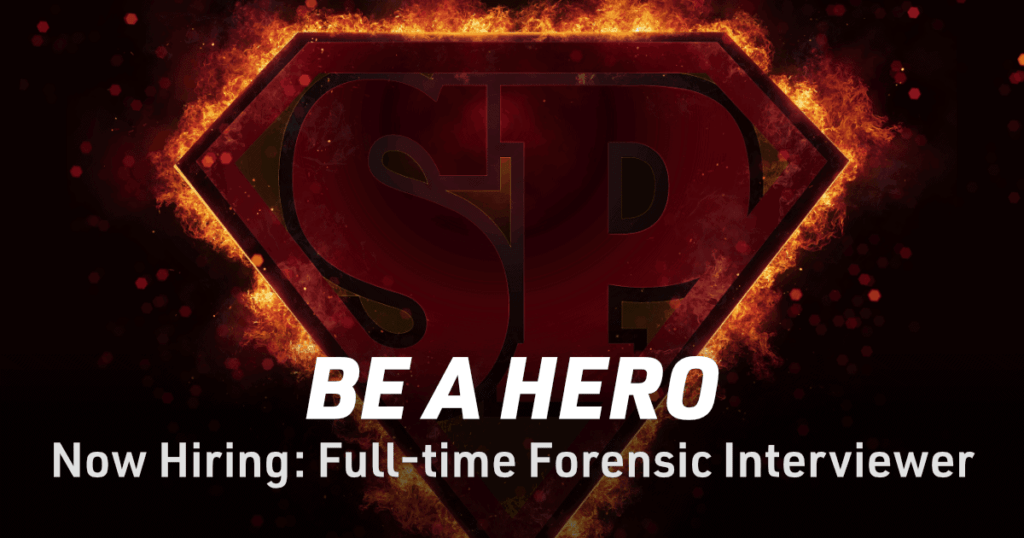 Susie's Place Child Advocacy Center in Avon is accepting applications to fill a full-time forensic interviewer position. Some travel to Bloomington and Terre Haute locations required.  Benefits include generous paid time off and retirement options, but no health benefits offered.
For this position, interested applicants should submit a cover letter and resume to Susie's Place Child Advocacy Center at [email protected].
Job Details
Forensic Interviewer
JOB TITLE: Forensic Interviewer
AGENCY: Susie's Place Child Advocacy Center in Avon, Indiana
REPORTS TO: Executive Director
SALARY: $44,500
BENEFITS: Paid time off, paid holidays and a retirement.  Position includes some evenings and weekends for on call schedule.
***Please note that Susie's Place does not currently offer medical benefits.***
SUMMARY: A professional position charged with interviewing child victims of reported crimes and child witnesses to violent crimes in an effort to ensure that children are not further traumatized by the interventions intended to protect them and have access to appropriate services.
MINIMUM JOB REQUIREMENTS: Bachelor's Degree in social work, criminal justice, education or a related field or a Master's Degree in Social Work or Forensic Science; a minimum of two (2) years of professional experience working with children and families where abuse and violence are identified issues; professional experience in working with the criminal justice or child welfare system; will be trained in a Forensic Interview techniques before the contract period.
JOB DESCRIPTION-SPECIFIC DUTIES:
Conducts developmentally and culturally sensitive forensic interviews of children, adolescents, and young adults on cases involving allegations of crimes against children or child witnesses to alleged crimes in collaboration with a multidisciplinary team.
Conducts forensic interviews during regular business hours, as well as, during on-call hours which may include nights, weekends, and holidays as scheduled by the Executive Director.
Must be willing and able to drive to either Susie's Place facility to conduct interviews and throughout large geographic region for team meetings, court hearings, and other required
meetings/events
Facilitates pre/post interview multidisciplinary team meetings.
Prepares and maintains the Susie's Place facilities for forensic interviews, meetings, and tours.
Responds to subpoenas and testify when requested.
Participates in case reviews, peer reviews, and Team Meetings. Present cases when requested.
Assists multidisciplinary team in collecting all relevant child and family history and making appropriate referrals for services.
Participates in supervision, professional development and on-going training activities including successful completion of a recognized forensic interview protocol training.
Assists with other agency activities as requested, including but not limited to:

develop protocols to facilitate inter-agency investigations
assist in conceptualizing and writing grant proposals
participate in case tracking, including data collection and entry
assist in the process of ensuring Susie's Place compliance with standards of the National Children's Alliance
attend various meetings in the community to represent Susie's Place

Serves as a speaker/presenter on topics relating to forensic interviewing of alleged child abuse victims, Susie's Place services and child abuse prevention.
Consistently demonstrates professional behaviors and leadership skills that are in support of the mission of Susie's Place and serves as an advocate for the agency and its clients to support and promote quality standards.
Performs other tasks and responsibilities as requested by Executive Director and/or Associate Director.
JOB DESCRIPTION-SPECIFIC REQUIREMENTS:
Must be able to work well with children
Must be able to work in stressful situations
Must be able to work independently as well as function as a team member and accept guidance and direction from Executive Director
Must be able to meet on-call requirements to respond to crisis intervention
Must be able to work with a variety of people, including clients and their families, professionals in the areas of law enforcement, medicine, education and agency employees
PHYSICAL REQUIREMENTS:
Must be able to deal with a variety of emotions under stressful situations and be able to deal with people who may be very upset
Emotional stability and personal maturity are important attributes in this position
Requires normal range of hearing, eyesight, coordination and manual dexterity sufficient to record, prepare and communicate reports and operate office equipment
To Apply
Resumes and cover letters may be submitted to Lynn Clinton, Associate Director, at [email protected].  Please include position of interest in the email subject line. Resumes must be received by April 16th for consideration. No phone calls, please.
Susie's Place is an equal opportunity employer and does not discriminate in the recruitment, employment, promotion, or transfer of qualified personnel, or in the administration of personnel practices based upon age, sex, race, ethnicity, nationality, handicap, or religion.