Forensic Interviewer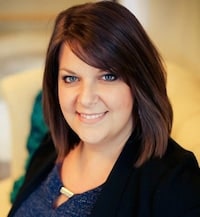 Trisha Guinn supports the Terre Haute facility as the Forensic Interviewer. She holds a Master of Mental Health Counseling and a Bachelor of Science Psychology degree from Indiana State University. She has conducted over 2,000 interviews since joining Susie's Place in July of 2013, gaining vast experience in collaborating with child protection teams, law enforcement, and the legal system.
Trisha has spent 15 years assisting children professionally, often in the area of child protection. She has worked with young children through Healthy Families, a preventative agency, as well as with adolescents and young adults while working as a counselor at a residential treatment facility with at-risk youth.
Trisha successfully completed Finding Words Indiana, a Child Forensic Interview training, in 2010, and Advanced Forensic Interviewing through ChildFirst Indiana in 2014. Trisha has trained in Minneapolis as a Multidisciplinary Team Facilitator. She is a mentor for the Forensic Interviewers at Susie's Place. She helped open the Terre Haute center, in her home town, in May of 2017. She strives to ensure the children she interviews are met with understanding and without fear of judgment.