Founder, Executive Director, and Child Forensic Interviewer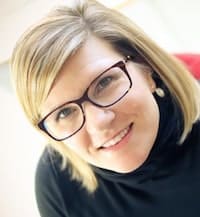 Emily Perry, Founder, Executive Director, & Forensic Interviewer at Susie's Place Child Advocacy Centers.  Emily is a licensed social worker and holds a Masters Degree in Social Work from Indiana University and a Bachelors of Arts Degree in Sociology from Hanover College. She has more than 20 years of experience in the field of child welfare, child protection, and crimes against children with previous positions held in Philadelphia, Pennsylvania; Portland, Oregon; and Shelbyville, Indiana. Emily continued her training with the Indianapolis Institute for Families as a Clinical Associate in the Child Abuse Treatment Program. She also held the Director of Special Programs and Director of Development positions while with the Institute. Emily began the development and implementation of Susie's Place Child Advocacy Centers in 2005 celebrating the opening of the first center in Avon, IN in 2009, the second center in Bloomington, IN in 2011, and a third location in Terre Haute, IN in 2017. In 2022, Emily lead all three Susie's Place locations to achieve National Accreditation from National Children's Alliance.
While at Susie's Place, Emily has conducted well over 2,000 forensic interviews of reported child victims of crimes and has supervised over 12,000 additional cases involving reports of crimes against children. Emily works collaboratively with law enforcement, prosecutors, the Department of Child Services, medical teams, victim advocates, and mental health clinicians to ensure that children are not further traumatized by the interventions intended to protect them. Additionally, Emily contracts with the United States Army via the Department of Defense to train Army Special Victims Prosecutors, Trial Council, and Advocates through the Army Trial Council Assistance Program – Child Abuse Course. Emily also provides Expert Testimony in the areas of Child Forensic Interviewing, Dynamics of Child Sexual Abuse, and the Process of Disclosure in military and civilian court proceedings.  
Emily is the current President of the Indiana Chapter of National Children's Alliance. Ms. Perry was awarded the Child Advocate of the Year from National Children's Alliance in 2020, the 2017 Susan D. Wisely Youth Worker of the Year Award from the Indiana Youth Institute, the 2017 ICON of the Year for the Hendricks County Business Leader and the 2010 Victim Advocate of the Year Award from the Indiana Coalition Against Sexual Assault. Ms. Perry lead Susie's Place in being honored with the Avon Chamber of Commerce Distinguished Organization Award in 2010 and the 2014 Community Justice and Mediation – Herb Keisling Award.