At Susie's Place Child Advocacy Center, we play a critical role in the investigation of child abuse and neglect.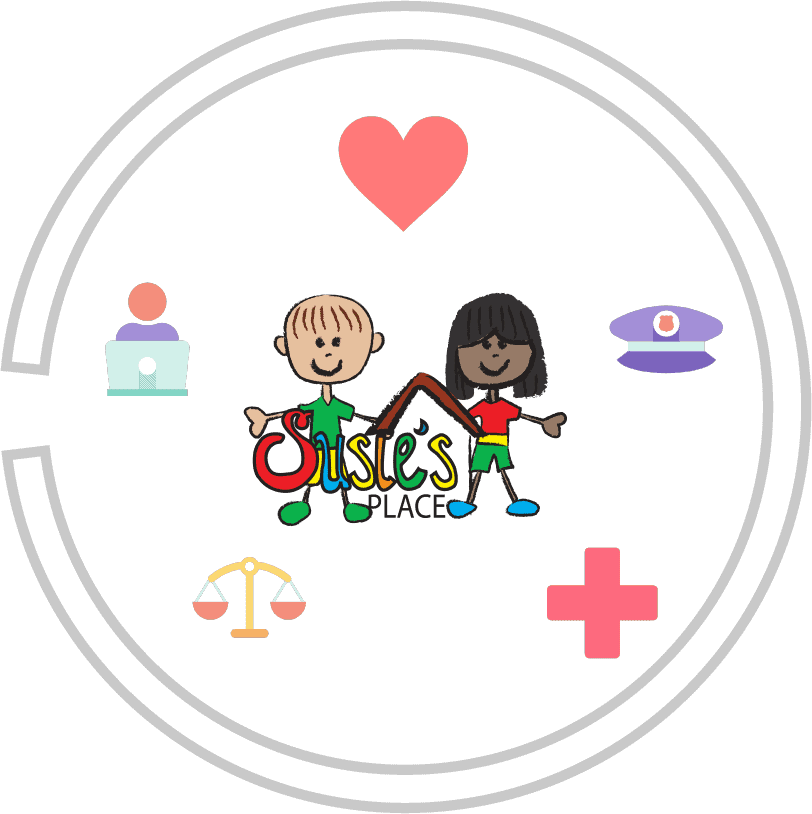 With Susie's Place, everyone comes together for the child
We provide forensic interviews for children in a child-first facility designed for the investigation of reported crimes against children.
Our work promotes the prevention, justice, and healing of child victims of abuse and violence. Everything we do is focused on the child's need.
We welcome them with a child-friendly waiting room and ensure that the forensic interviewers establish a positive relationship right from the start.
The children are brought into a comfortable room with the interviewer and have a neutral conversation one on one.
The other team members participate by watching and listening live in another room on a closed-circuit television system.
Through earpieces, the team members can communicate with the interviewer. This allows for a truly comprehensive, hopefully one-time interview, where the child is at ease and the team gets all the information needed.
All materials from the interview, including drawings or DVD recordings, are given to the team.
We also have a Child and Family Advocate who is able to follow up with families to ensure they have the services they need or help them navigate the justice system.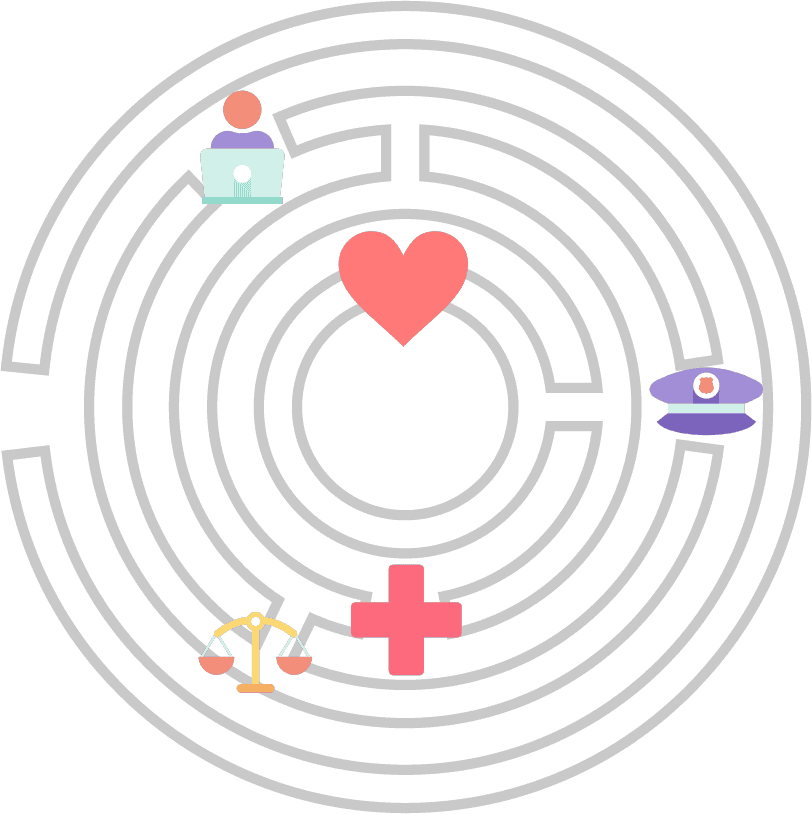 Without Susie's Place, families face navigating a complex maze of services
In the past, several different people often interviewed children, i.e. school staff, Department of Child Services (DCS), law enforcement, and the prosecutor's office.
Children were being traumatized by having to repeatedly tell their story. They were often interviewed in police stations, which are not child-friendly. As a response to those concerns, the Child Advocacy Center was born.
"There is always one moment in childhood when the door opens and lets the future in."

—Graham Greene
How did Susie's Place start?
Susie's Place Child Advocacy Center has been on the mind and in the hearts of many for more than a decade and is committed to strengthening the community's ability to nurture and protect children and respond to child abuse in Indiana.
In 2005, Emily E. Perry joined the Indianapolis Institute for Families as a Clinical Associate and Director of Special Programs. At that time, the Indianapolis Institute for Families had provided the Child Abuse Treatment Program to Hendricks County for over 20 years. Shortly after joining the Institute's team, Emily identified an opportunity within Hendricks County that had the potential to systematically improve the county's ability to investigate reports of child abuse while maintaining the child as the first priority. Hendricks County needed a Child Advocacy Center.
After over two years of talking about the development of a Child Advocacy Center, little to no progress was being made toward helping victims of child abuse in Indiana. In December, 2007 Emily coordinated an informational meeting to introduce the concept of a Child Advocacy Center to Hendricks County. Representatives from virtually every law enforcement jurisdiction in Hendricks County, the Hendricks County Prosecutors Office, the Hendricks County Department of Child Services, Hendricks Regional Health, and the Indianapolis Institute for Families attended this informational meeting. From that meeting, a Child Advocacy Center Steering Committee was developed.
Through the support and dedication of a number of individuals that participated on the steering committee, Susie's Place celebrated its grand opening in April 2009. An additional Susie's Place center was opened in Bloomington in 2011, and the Terre Haute center opened in 2017.
Susie's Place has conducted well over 11,000 child forensic interviews with 70 different law enforcement agencies and 38 county Department of Child Services offices. Additionally, Susie's Place has coordinated cases with child abuse investigators in 13 other states, the FBI and Homeland Security.
Who was Susie Austin?
Susie Austin began her career with the Hendricks County Sheriff's Department in 1968. By 1978, Susie was the first female Merit Deputy in Hendricks County and worked diligently to further her career with the Sheriff's Department. Susie eventually became a Detective and finally a Lieutenant.
Susie paved the way for women in law enforcement and investigating crimes against children in Hendricks County.
As a Detective, Susie specialized in crimes against children and sex crimes. She was a constant advocate for the rights of children, families, and victims and strived to protect children while seeking justice.
Founded Officer Teddy 1988, providing a teddy bear to each child victim of reported abuse or neglect, rape victims, and children traumatized by domestic violence.
Founded Teach-a-Bodies Program, offering Good Touch/Bad Touch programming in schools, churches, and local hospitals. The program spurred countless child molestation investigations resulting in numerous convictions.
Sadly, Susie was stricken with cancer in May 2002. After 32 years of service, Susie was forced to retire from the Hendricks County Sheriff's Department in December 2002. In February of 2003, the Hendricks County community experienced a great loss in the passing of Susie Austin. Susie is survived by her daughter, Marisa (Vanek).
According to Susie's family, Susie would be proud of the ongoing efforts to protect the children of Hendricks County from child abuse and honored that she was thought of during the development of the Hendricks County Child Advocacy Center. It is because of Susie Austin that Susie's Place finally came to fruition.