Medical Case Manager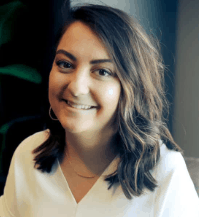 Olivia Sarchet is the Medical Case Manager for Susie's Place, working primarily out of the Bloomington location. She is a Registered Nurse and obtained her Bachelor of Science in Nursing degree from the University of Cincinnati. She has over five years of experience working as a Pediatric Nurse and has a passion for working with children.
In 2016, Susie's Place partnered with IU Health, Riley Physicians and opened a medical suite at the Bloomington center, allowing us to offer forensic medical exams on site. At that time, Olivia completed the International Association of Forensic Nursing training and began assisting with the exams as a Pediatric Sexual Assault Nurse. In 2019, Olivia joined Susie's Place staff in order to expand the medical program and serve as a liaison between families, the community and members of the multidisciplinary team. Olivia is passionate about continuing to grow the medical program, and offering exams to all children who are alleged victims of sexual abuse.
In her spare time, Olivia enjoys traveling and spending time with her friends and family. She also enjoys playing with her two goldendoodles and cheering on the Ohio State Buckeyes alongside her husband!