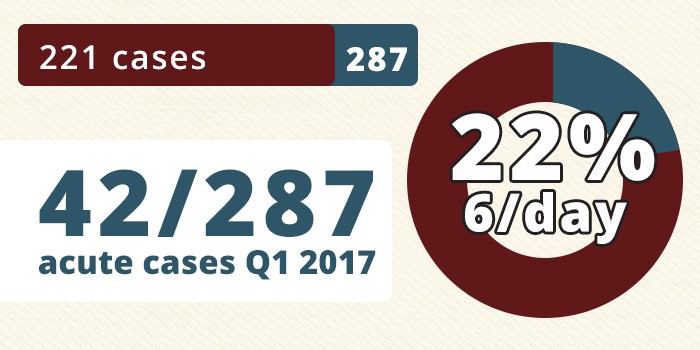 In the first quarter of 2017, Susie's Place interviewed 287 reported victims of abuse.  That is 66 more cases than in the first quarter of 2016.
22% of the time, we interviewed more than six children in a single day.
Twice this quarter we have interviewed more than 10 reported victims in one day.
42 cases in this quarter were considered "acute," meaning they needed to be conducted immediately due to severity, safety or timeliness of abuse.  These cases are almost always conducted outside of normal business hours.
Our Child and Family Advocates referred 22 reported victims to medical services and 265 to mental health services.  They contacted reported victims or their non-offending family members 919 times during this quarter to ensure that they are receiving all of the interventions they may need.
Our Prevention Coordinator trained 188 youth-serving adults in Stewards of Children – Child Sexual Abuse Prevention.  Prevention programming is only a part-time program at the moment, but we hope to grow it to a full-time position.