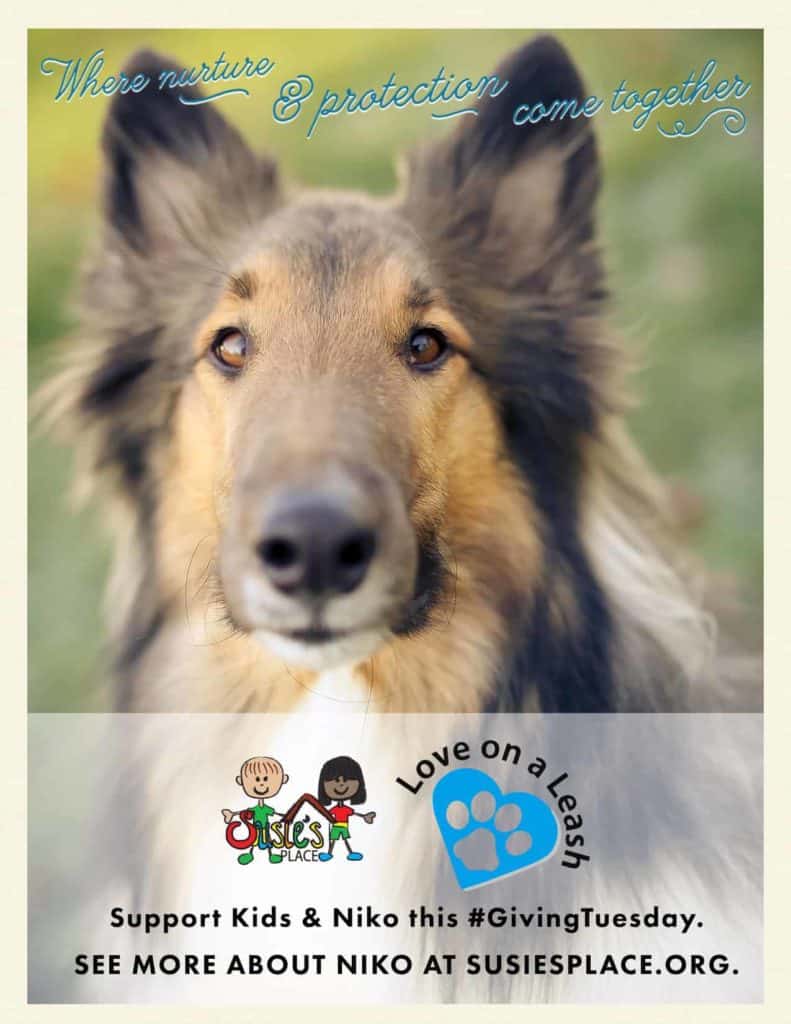 Who doesn't love an afternoon with a friendly, supportive dog? Susie's Place, in partnership with Love on a Leash, a nationally recognized provider of therapy dogs, is bringing a fresh new approach to helping families and children heal after abuse, assault, and other alleged maltreatment.
While post traumatic stress disorder is most commonly associated with combat veterans, PTSD impacts sexual assault victims at a higher rate. About 30% of sexual assault victims will experience PTSD at some point in their life.  Therapy dogs have had a huge impact on veterans dealing with PTSD, so the logic is clear that these four legged friends should be used with children suffering from PTSD, as well.
Therapy dogs help comfort scared children, in addition to being good friends in a time of need. Therapy dogs have reported benefits of helping people feel more aware and in control of their emotions, as well as improve self esteem and their ability to interact with others. All critical things important in the development of a healthy child, and in the pursuit of the truth in our forensic interviews.
Love On a Leash has partnered with Susie's Place to bring in Niko, one of our 5 new therapy dogs. At two and a half years old, this rough collie was certified a therapy dog at the age of 1 and holds an AKC Advanced Good Citizen designation.
All of the advanced training and support Niko brings is not without costs, however. We're paying for Niko on an as-needed basis with grant funding, but we need your help to keep Niko, and dogs like him, at Susie's Place.
The therapy dog pack
Besides providing comfort at Susie's Place, these five therapy dogs have also gone into schools to become reading buddies and to help kids work through behavioral issues. They've also provided grief support for an Indianapolis elementary school when a student was killed after being hit by a car.
The students find great comfort in the dogs, petting and cuddling them while crying and talking out their fears.
Maggie Moo is 5, and Cole is 8. The two little white terriers are 5 and a half year old brothers named Dugan and Brody. In addition to visiting schools, the siblings also visit nursing homes and the junior prison.
At the prison, a boy with extreme depression likes to hold Dugan for the entire hour they are there. The dog relaxes the boy, who gives him butterfly kisses. Brody, being more energetic, loves to play with the younger kids.
As the dogs continue to visit Susie's Place, they'll be connected with children in need of comfort and emotional support.
Help us keep therapy dogs at Susie's Place
Your donation means a child in need can receive time with a therapy dog, and a lifetime of healing and hope.
[button link="https://www.paypal.com/cgi-bin/webscr?cmd=_s-xclick&hosted_button_id=X5N3KXCBHBGL2″ size="l" window="yes"]Donate Now Directly with PayPal[/button]