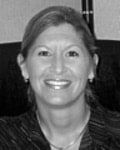 Susie's Place is proud to introduce Heather Eberth-Teike, our co-located mental health provider. Heather, a longtime service provider at the Indiana Center for Children and Families now maintains an office at our Avon location providing therapy services to some of the children that come through our center for forensic interview services.
Heather received a Masters of Social Work Degree from Indiana University and Bachelor of Science Degree from the University of Indianapolis. She is a Licensed Clinical Social Worker.  Heather is specially trained in the treatment of adult relationships, parent education and families.  She brings valued experience in the areas of special needs, behaviorally disordered, and abused and neglected children, youth and adolescents.  Heather is also a credentialed mental health specialist and equine specialist, lending unique qualifications in experiential therapy to her clinical and leadership skills.
Since her office opened in the CAC in February, Heather has seen over 30 children whose cases came through our center. Having a therapist on location has been exceptionally helpful in cases where immediately mental health action has been considered. We look forward to a long relationship with Heather and ICCF.